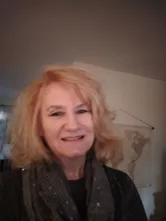 Chelsea Elizabeth Greene MA, LPC, CCMC
Chelsea Elizabeth Greene, MA, LPC, CCMC is a licensed professional counselor and she is certified as military counselor and as a brain educator, through The Amen Clinic. She has called North Carolina home for over 25 years and loves spending time at the mountains and the beaches of North Carolina.
She is the founder and Director of Sage Institute, PLLC, a counseling and behavioral health and Healing Arts center. Sage offers professional counseling to children and teens recovering from trauma; counseling to families; and organizational team-building and consulting to social services agencies, businesses, and industries that support the health and wellness of their employees. Sage Institute, PPLC is located in North Carolina.
Chelsea is also a motivational speaker, who help others who desire better brain health. She has 25+ years experience as a licensed professional counselor in the behavioral health and wellness field. She holds a Master's Degree in Counseling Psychology from Norwich University in Vermont. She has worked as an organizational consultant and trainer for FARR Associates, Inc. and in various other clinical and administrative roles in the mental health and behavioral health and wellness field.
Certified Brain Educator, through
The Amen Clinic.